Top 3 attractions in Thanh Hoa
Come to Thanh Hoa, I bet you will be surprised a lot for the beauty of amazing beaches, blending with bright blue sky, very long white stands, spectacular mountain and other landscape  which all make this province so attractive that no one want to miss out when travelling around Vietnam. Now, it's the time for us to take a look at the top 3 tourism attractions in Thanh Hoa. Are you ready??? Let's get started right now!!!
More: When come to visit Vietnam. So see more: best time to visit vietnam
Sam Son
One corner of Sam Son Beach
Sam Son (Sầm Sơn) has considered as a really renowned and attractive spot for tourism in Vietnam for many years. Just go there for a time, you will be really impressed for its very gentle and flat sandbank, coming with definitely blue and clean water. That's even much greater if you try wallowing in the cool sea, building sand castles,  or choose to lie on the sandbanks and enjoy pleasing sounds of waves, … Additionally, try different types of local sea foods right on the sandbanks in the night might also be unforgettable moments for you to experiences as coming to Sam Son. And don't for get to bring back home interesting souvenirs from local vendors in there!!!
More: the hanoi opera house  stands as the architectural, cultural and political symbol of the 1000 year old Capital
The God Fish Stream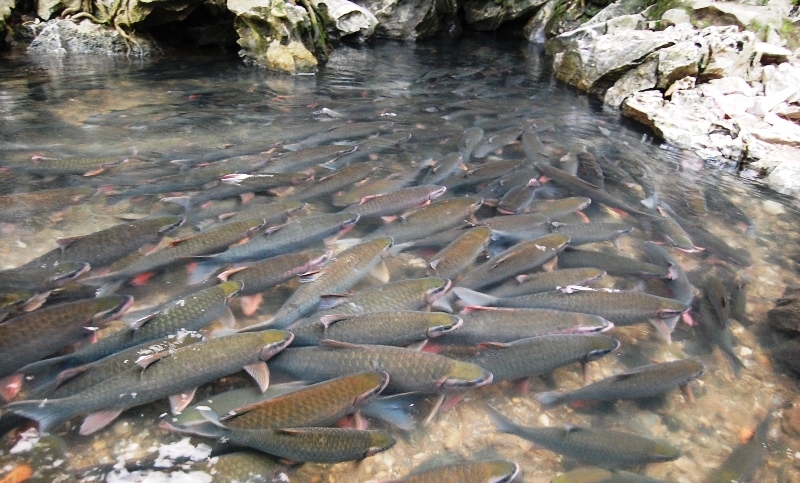 The God Fish Stream
This destination is in Cam Luong, Cam Thuy, Thanh Hoa, which has been nearly 1000 years under the base of an extremely huge mountain, named as Truong Sinh. First impression of the tourists when passing by the God Fish Stream must be the perfect combination of high mountains, a huge forest, and long rivers, which all create one of very best majestically natural sceneries ever for you to enjoy. More interestingly, you also have the chance to see a very special and unique type of fish in the God Fish Stream. No one really knows what type of the fish is. Due to several mystical tales and stories, local people call them as The God Fish and they never dare to catch or eat them.
More: Where go to in Vietnam. So see more: places to visit in vietnam
Ben En National Park
Ben En National Park
The third place I want to put in this writing is nothing but the Ben En National Park, which is situated at Nhu Xuan and Nhu Thanh districts of Thanh Hoa. Covering a very large area of about 16,634 hectares, it not only has a definitely wide and diversified system of caves, lakes, mountains, and forest, but also plays very important role in protecting so many rare creatures and becomes an extremely attractive ecotourism destination, thanks to extremely majestic but poetic sceneries. That all sounds really great, isn't it???
Just take a pretty quick look at 3 of most attractive and popular places in Thanh Hoa, but you must agree with me that all of those things listed above are really great that make us go crazy, don't you??? If that so, let's set out on a journey and reach to greatest sceneries in Thanh Hoa Province right now!!!